10. Teen delivers 15-pound baby in India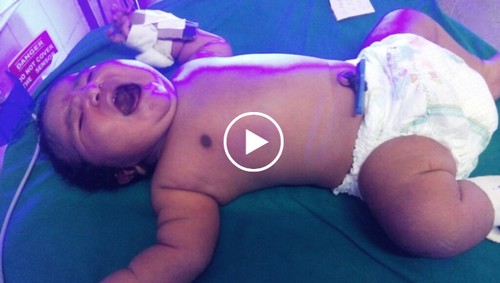 A 19-year-old woman named Nandini gave birth to a 15 pound, 24.4-inch baby girl in May 2016. She was delivered via a thirty-minute cesarean section procedure, at a government run hospital in Karnataka, India. The mother, Nandini was 207 pounds at the time of her daughter's delivery and doctors feared this would cause her to have diabetes and affect the baby. However, both child and mother were in good health. The 15-pound baby girl is the heaviest recorded newborn in India.
9. Baby George King born at 15lbs 7oz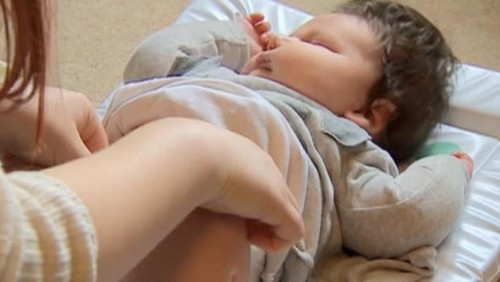 On February 11 2013, a 21-year-old woman named Jade Packer gave birth to a 15 pound and 7oz baby boy at Gloucester Royal Infirmary. He was two weeks late and it is claimed that he was delivered naturally. According to his parents, because the doctors and his family were unaware of his size, delivering him was difficult. His shoulders got stuck and he could not breathe for five minutes. The doctors gave him a ten percent chance of survival and he was transferred to St Michaels's Hospital. He was able to go home with his parents after four and a half weeks.
8. 16-Pound Baby Born In California Is One Of The Largest In History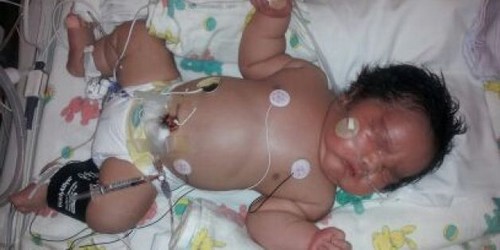 Sosefina Tagula of California gave birth to a 16 pounds and 1.7 ounce baby boynamed Sammisano Joshua Talai Otuhiva in 2013. According to his mother, he was delivered early, and the doctors believed that he would have weighed 18 lbs. if he had arrived on his due date. According to his mother at 5 months old baby Sammisano weighed 25 pounds and has an insatiable hunger.
7. 16-Pound Baby Boy Born in Texas Hospital

In 2011, Janet Johnson gave birth to a 16 pound, 24-inch-long baby at Longview Hospital in Texas. He is the biggest baby ever born in that state. Janet who was 39 years when she delivered had been diagnosed with gestational diabetes during her pregnancy which may have contributed to JaMichael's size. He was placed in the Neonatal Intensive Care Unit shortly after he was born to receive assistance with his eating and breathing.
6. Cape Town woman gives birth to 7.6kg baby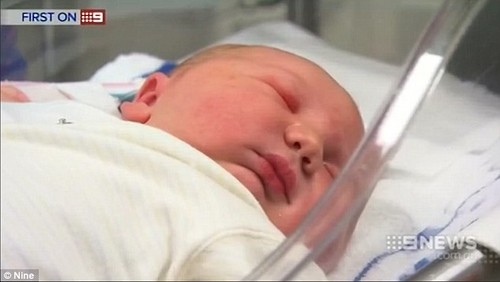 In 2007, Cathleen Abels delivered a baby girl who weighed 16 pounds and 9 ounces at Tygerberg hospital in Cape Town. According to the hospital staff, this was the biggest baby to be born at this particular hospital. Cathleen Abels and her doctors had thought she was carrying twins until she delivered. She delivered her baby Chesner naturally and according to some news sources, the baby was having a bit of trouble breathing and thus received some help with breathing from a ward.
5. A woman in Brazil has given birth to a "giant baby" weighing 17lb (8kg)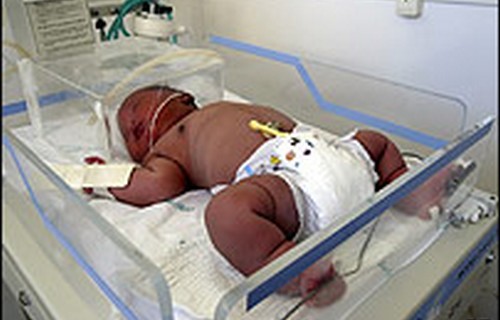 In 2005 Franasca dos Santos delivered a 17-pound baby via cesarean section at a hospital in Salvador Brazil. Franasca was 38 years old at the time of her son's birth. The doctors at the hospital believed his unusual size was due to his mother's diabetes. The baby, Ademilton dos Santos is the heaviest baby to be born in Brazil to date. Although he was in a general state of good health, he was receiving oxygen because of a breathing problem.
4. Russian mother Gives Birth to a 'giant' baby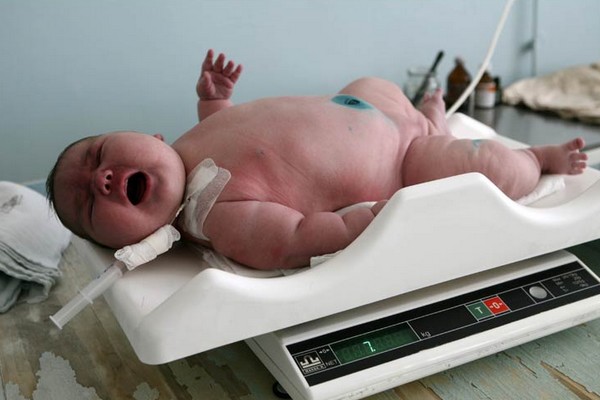 Tatyana Khalina, age 43, gave birth to a baby who weighed 17 pounds and 5 ounces in September of 2004. She gave birth at a hospital in the Altai region of Siberia via caesarean section. The baby girl was named Nadia. Tatyana attributed her baby's weight to her poor diet during her pregnancy. She was quoted by a news reporter as saying 'I ate everything, we don't have money for special food so I just ate potatoes, noodles and tomatoes.
3. Indonesian Mom Gives Birth to 19 lb Baby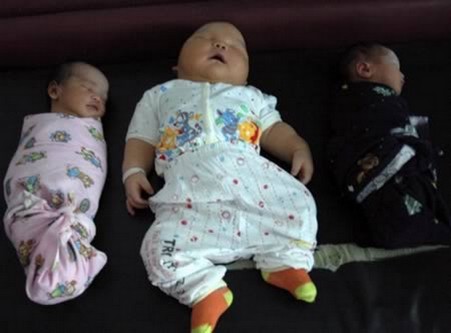 In September 2009 parents Hananudlin and Ani welcomed a baby boy weighing in at 19 pounds and 2 ounces. His was named Akbar and he measured 24.4 inches in length. He was born at Abdul Manon Hospital in Kisaran Sumatra. His mother Ani who had diabetes underwent a 40-minute complicated cesarean section delivery. She was 41 years of age at the time of her son's delivery.
2. Carmelina Fedele – Gave Birth to the Heavest Baby weighing 10.2 kg
In 1955, Carmelina Fedele gave birth to a baby boy who weighed 22 pounds and 8 ounces. She gave birth in Aversa Italy. Her baby is the heaviest recorded baby to have been born. Not much else is known about her or the baby. This baby made it to the Guinness World Records as one of the heaviest babies ever born in the world.
1. Anna Bates – Gave Birth to the 28 inch Long Baby
In 1879, a Canadian woman named Anna Bates gave birth to a boy who weighed 9.98kg (22 pounds) and measured 28 inches in length. She gave birth naturally at her home in Ohio, USA. According to the Guinness World Records, Anna Bates herself was 7 feet 11 inches tall. The unnamed baby died 11 hours later. This baby made it to the Guinness World Records as one of the biggest newborn babies in the world.